Our friendly team loves helping children enjoy their smiles! We specialize in children, because children are special, and you can always count on us to have your child's best interests at heart. When you visit Pediatric Dentistry of San Antonio, we will take the time to help you understand your child's oral development and needs and learn the best ways to help them maintain a healthy mouth as they grow. Call 210-680-7841 today to learn more and make an appointment with Dr. Derrick Cantu or Dr. Christi Wengler, our pediatric dentists in San Antonio, Texas.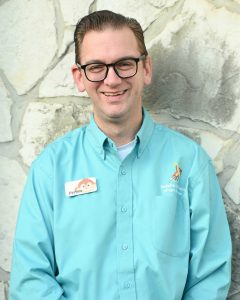 Parker was born and raised in San Antonio. Parker has over twenty-five years of dental experience. He has been with our team since 2001, and after working for over ten years as an assistant, he received his bachelor's degree for our team. Parker loves working with children because it allows him to never grow up! Parker uses the skills that he has learned through the years to make both patients and parents feel comfortable with their dental visits. Parker and his wife live in Cibolo with their three children Kaitlynn, William and Ella. Parker enjoys playing with his kids, antiquing, and he loves to travel to new places.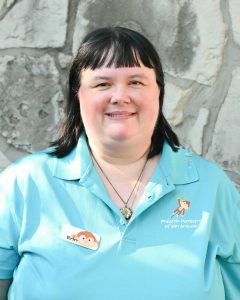 Erin grew up in Maple Grove, MN, a suburb of Minneapolis. She moved to San Antonio in 1992 and says she does not miss the snow! Erin joined our team as a business assistant in 1999 and specializes in hospital cases and Medicaid. One thing she enjoys most is helping patients and families feel comfortable with treatment. In her spare time, Erin enjoys spending time with her husband, friends and her fur babies. In March 2017, she made a trip of a lifetime to Tokyo, Japan, where she had dreamed of going for over 10 years! While in Japan she collected more items for her Hello Kitty collection, ate great food, rode a bullet train and saw a whale shark! Erin says she is "obsessed" with sloths and even had the opportunity to hold one. Erin also loves to attend rock concerts and loves travelling to new places.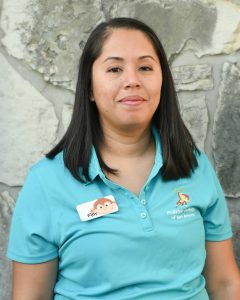 Flor
Insurance Coordinator
In 2007, Flor graduated from the Dental Assisting School at Everest College dental assisting program in Reseda, California. Flor and her husband moved to San Antonio in 2008 and she started work at PDOSA soon afterward as a Registered Dental Assistant. She is now one of the friendly faces you will see when you walk into our office. She and her husband have two beautiful girls, and a Chihuahua/Dachshund mix whom she labels as "grumpy." Flor enjoys reading and has even been to book conventions! Flor says she most loves working with children because they always bring the unexpected and are full of fun.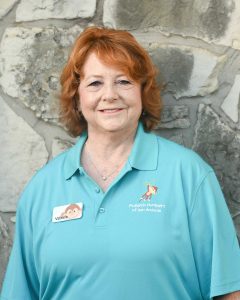 Valerie is one of the newest members of our team. We are happy to have her join us with 38 years of experience as an administrative assistant. Originally from Southeast Texas, Valerie moved to San Antonio in July of 2020 to be closer to her daughter who attended UTSA, and to her son and his family. Recently, Valerie was blessed with her third grandchild and loves being a Nana. In her spare time, she loves to craft, including crocheting, and spending time with her family and her sweet Yorkie, Paisley.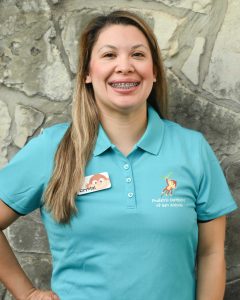 Crystal
Registered Dental Hygienist
Crystal was born and raised in San Antonio and has never lived anywhere else. She completed her Dental Hygiene degree in 2021 from the University of Texas Health Science Center. We are excited to have her as a new member of our team! Crystal has a boyfriend, two dogs, Ash and Tootsie, and two children, one of whom just graduated high school and recently moved off to go to college. She loves horses and hopes to own one someday! Crystal says she enjoys working with children because she feels accomplished when she sees a patient's oral hygiene improve over time. Never being one to give up, her favorite quote is "She believed she could, so she did."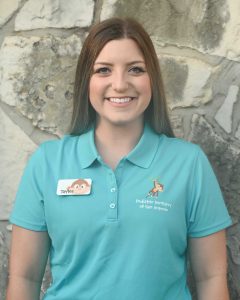 Taylor
Registered Dental Hygienist
Taylor is from Leander, Texas, and graduated as valedictorian with a bachelor's degree in dental Hygiene at the University of Texas Health Science Center of San Antonio in 2017. Soon after graduation, Taylor joined our team at PDOSA. Taylor loves working with kids and teaching them how to care for their smiles and is passionate about making children feel comfortable in the dental setting. Taylor is married, and has a Golden Retriever named Sadie. She says she loves being an Auntie to her niece and two nephews. In her free time, you can often find Taylor spending time with family and friends and going to concerts.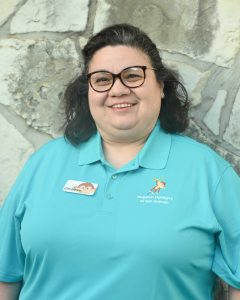 Christine
Registered Dental Assistant
Christine was born and raised here in San Antonio. She has been married to her husband for 23 years and has four children and two grandcats. After completing dental assisting school in 1998 Christine made her dental home here at PDOSA. After taking a few years off to raise and home-school her children, she made her way back to pediatric dentistry. When not at PDOSA, Christine is active at her church and enjoys singing and playing the flute. She feels most accomplished when she can make the people around her laugh and smile.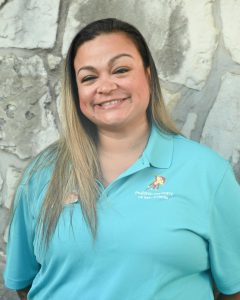 Krystal
Registered Dental Assistant
Krystal was born in San Antonio, however she moved to California with her parents and siblings when she was three years old. She says she moved back to San Antonio as fast as she could and enjoys the life that living in San Antonio offers. Krystal has been a dental assistant since November 2005, and joined our team in June 2011. Krystal comes from a large family with six brothers and two sisters, one of which is her twin! She is blessed with her boyfriend, godson, goddaughter and her fur babies. Her favorite books are the Harry Potter series. In her free time, Krystal enjoys playing softball, camping and fishing.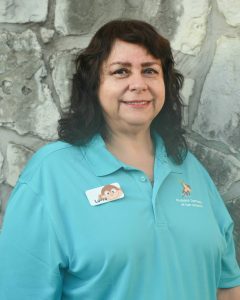 Laura
Registered Dental Assistant
Born and raised in San Antonio, Laura has been working in dentistry for twenty-five years. She graduated from San Antonio College's dental assisting program in 1987 and has worked as a dental assistant since that time. Laura has been a member of our team since 1995. She is married and has one daughter. When not at PDOSA, her thrill-seeking family often frequents Six Flags and Sea World to ride the rides! Laura also enjoys watching movies in her spare time. She says she feels most accomplished when she can make a difference in someone's life, and she enjoys working with children because of their curiosity and love of learning.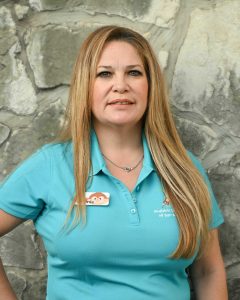 Virginia
Registered Dental Assistant
Virginia is a born and raised Texas girl. She is a proud mother of three. Virginia has over 20 years of experience as a dental assistant and enjoys pediatrics because it allows her to fulfill her dedication and strive to do the best at all she does. An avid traveler, she has visited over 25 states! She spends her time away from the office at her boutique, which she is co-owner of with her sisters. She enjoys refinishing furniture, biking and most of all boating with her husband. Her favorite quote is from Maya Angelou, "Life is not measured by the number of breaths we take, but by the moments that take our breath away."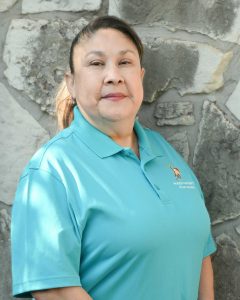 Imelda
Registered Dental Assistant
Imelda was born in Laredo and grew up in Indiana with her parents and nine brothers and sisters when she was six years old. She became a dental assistant in 1984 and moved back to Texas in 1986 with her husband. Imelda has been married for 28 years and has two daughters, and four grandchildren with one on the way! She started working in pediatric dentistry in 1995 because of her love of children. Imelda is certified in dental X-rays, nitrous oxide, CPR and sealants. Imelda is trilingual, being fluent in English, Spanish and American Sign Language. She loves working with children because they are easy to work with and there is never a dull moment!